Gavi or bust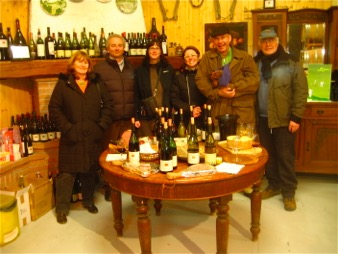 Despite the advantages that GPS has endowed us with, it doesn't always work. On a recent fact-finding mission to Gavi (and Tortona) we had a 10am appointment with www.morgassisuperiore.it so we put the address into TomTom and set off with plenty of time to spare. At 9.45am with just 4km to go, according to TomTom, we found ourselves on a snow covered icy track at the top of a hill with sheer drops either side. Not unusual in this part of the world where tracks through vineyards are sometimes considered major thoroughfares. We telephoned, apologised made a nervous 10 point turn and 30 minutes later were sampling the considerable delights of Timorasso and Cortese in the form of Gavi and a Gavi Superiore. Here were white wines with a complexity and length that is hard to find in Italy and that would benefit from some ageing. A desert wine, La Cortesia, was delightfully delicate and could serve as an aperitif, compliment foie gras and most deserts.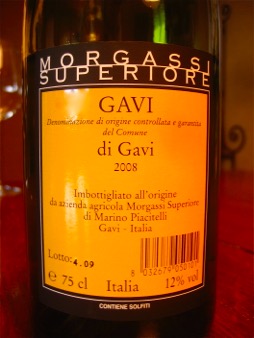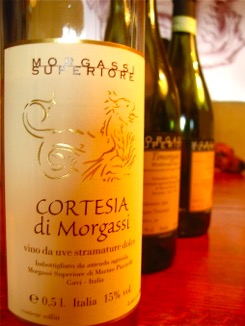 An excellent "workers' lunch" in a cellar restaurant in Gavi set us up for the afternoon tastings. First was at http://www.lacolomberavini.it/ where we were again delighted by the Timorasso: Il Montino 2006 a first time 3 bicchiere Gambero Rosso award winner. A whole bunch of varietals were sampled including: Nibiò, Barbera, Croatina, Bonarda each with their own individual characteristics and some, along with a Cortese and Rosato, available "sfuso" (bring your own bottles!). Elisa and Piercarlo are excellent hosts and a favourite of David Berry at www.bbr.com.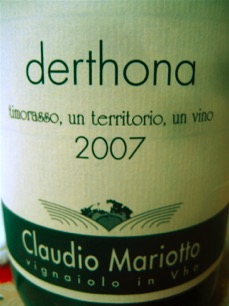 Last but not least, we spent 2 1/2 hours in the delightful company of www.claudiomariotto.it/. Claudio is a passionate exponent of Timorasso and believes that it is exceptional and deserves a reputation ahead of Gavi. Hard to dispute in our opinion and the range of vintages opened proved that this wine can definitely improve with age. His Pitasso 2004, 2005 and 2006 all won 3 bicchiere. The reds were pretty decent too. The tasting was turning into a party as his brother Mauro and various colleagues turned up for a glass and cheese toasted on the stove but it was dark and snowing heavily and the driver was getting twitchy so we bade our farewells.