A GREAT FIND: Casa della Torre
You sure can't judge a wine bar by it's door. We have been walking
by this place for years and finally gave it a try, once inside we found the
perfect definition of a vineria (think wine bar mixed with coffee shop,
neither of which exists separately in Italy). The place is great and the staff very
friendly, it's called Casa della Torre. It is located on a side street off the
main walking street in Alba. From this lesson we have decided to give
the other wine bars we've been walking by a chance and do little "mini" reviews
on all the wine bars in Alba(This could take awhile, there are ALOT of wine bars).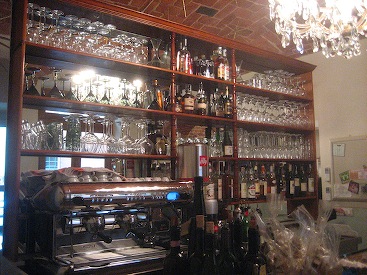 A back bar to be proud of with great stemware along with very serious
coffee. By definition a vineria is not a restaurant, however you wont go
hungry.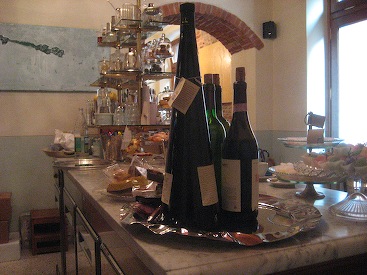 With every glass of wine you get a fancy plate of snacks, always delicious
but varies day to day, hour to hour. The wine by the glass is unusual too,
most vinerias in the area only serve local wine, but this place always has some wine
from someplace else, like Chile, Spain or other regions in Italy.
This is great because we go a little crazy drinking barbera and nebbbiolo
everyday, even though we love it. It also has ample choices for "bollicine" bubbles.
Bubbles are the most popular aperitivo in Piedmont wine bars. You don't see
very much Prosecco but alot of Franciacorta, Champagne and of course, locally
produced bubbles which most are quite good.